By Mishika Khurana and Olivia Noun
There are many approaches for supporting vulnerable and undocumented migrants and refugees at the local level. The Re-imagining Urban Sanctuary and Migrant Solidarity: Policies, Practices, and Perspectives panel organized by Soli.City at the Annual Canadian Sociological Association (CSA) Conference examined this issue. This panel brought together scholars and graduate students to explore the intersections between urban spaces, sanctuary, and migrant solidarity. The panel's four speakers, Jessica Jung, Rasha Arous, Bridget Collrin, and Tara Tarana explored the policies, practices, and perspectives that can contribute to creating more inclusive and supportive environments for migrants in urban areas. Cities are centers of social change but still experience significant challenges to the meaningful inclusion of vulnerable migrants and refugees.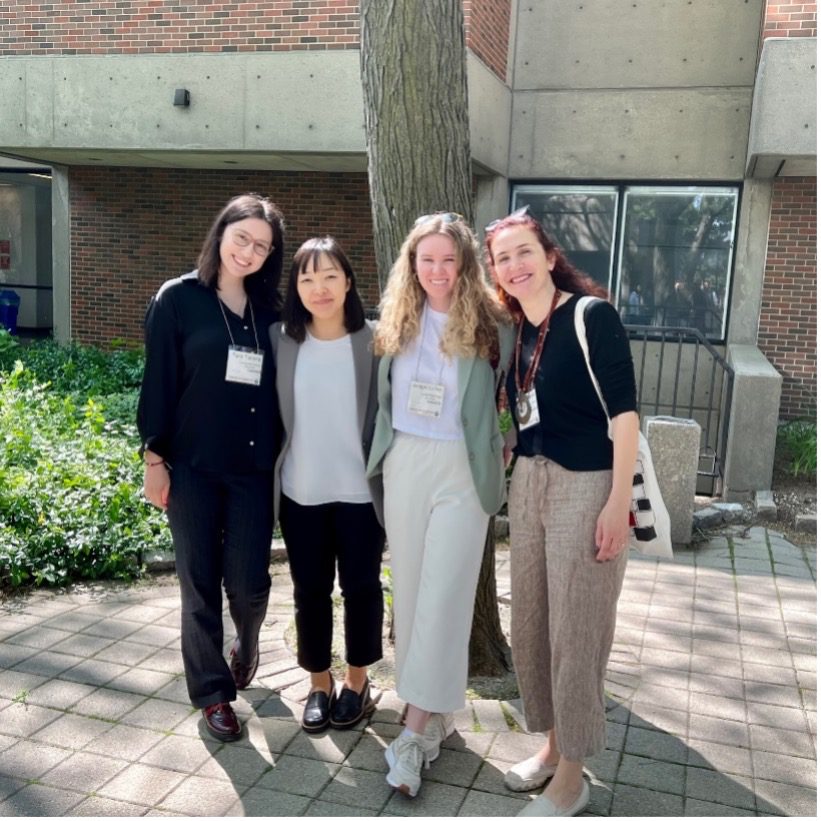 Panel speakers (left to right): Tara Tarana, Jessica Jung, Bridget Collrin, and Rasha Arous.
In her presentation, The Role of Public Space Activation in Acculturing Diverse Migrant Groups in Marginalized Residential Areas in Toronto, Rasha Arous presented her study on Mabelle Avenue, an area of Toronto home to many immigrant communities. Her research highlights the important role public spaces play in helping migrants adapt to their new surroundings, while also fostering a sense of unity and participation within the community. According to Rasha, this aim can be achieved through various community-driven initiatives, such as events, cultural festivals, art installations, and recreational activities. Such initiative promote dialogue, understanding, and shared experiences among different community members.
Bridget Collrin's presentation, Tracing Narratives of Hospitality in Housing Practices: A Comparative Study of Toronto and Berlin, underscored the different relationships, support systems, and power dynamics within the narratives of hospitality in housing practices in Toronto and Berlin. Bridget explored how housing practices can be made more welcoming and inclusive for migrants, highlighting the importance of supportive housing policies and community networks. Housing practices influence how relationships between migrants and local residents are formed and how support systems are established. Challenging the power dynamics at play in the narratives of hospitality can help us identify ways to enhance housing practices to create environments more welcoming and inclusive for migrants.
Jessica Jung presented her paper Sanctuary Movement in Mid-Sized Cities in Ontario: An Exploration of the Strengths and Limitations of Local Sanctuary Policies and Practices, which explores the strengths and limitations of sanctuary and access without fear policies and practices of mid-sized cities in Ontario. Her research examines city policy documents, city reports, and interviews with city staff and local community organizations in Hamilton, Ajax, London, and Kitchener. Jessica finds that the barriers experienced by precarious status migrants are well understood; however, there are broader policies of community engagement such as EDI and anti-racism initiatives that need to be interrogated more closely. Jessica concludes that future policy implementations in mid-sized cities in Ontario should consider the lack of police compliance, the unequal burdens imposed on specific departments solely responsible for the implementation of sanctuary, and the non-transparency on financial commitments.
Tara Tarana explored policies and practices of social inclusion and exclusion with an Analysis of the Roma and Their Inclusion and Exclusion in Metropolitan Areas of Europe.  Taking a historical approach, Tara's research involves two case studies of the social position of and agency among Roma people in Germany and Serbia. Tara's research reveals that policies of inclusion are insufficient, pointing out the absence of critical race discourse, little to no collection of data of Roma, and a lack of information of Roma projects (particularly in Berlin). Tara's paper argues for further awareness on the issue of Roma exclusion in European policies and practices implemented in metropolitan areas and proposed to increase funding for Roma projects, expand the census to include race-based data and critical race theory in the Europe institutional settings, and raising government transparency of projects funding.
Overall, the panelists identified research gaps that imagine radically different urban spaces of sanctuary and hospitality. By continuing to examine anti-racism, decoloniality, and other critical perspectives, researchers can enrich the debates on urban sanctuary and solidarity with vulnerable migrants and other populations in cities, here in Canada and globally.