by Emily Matesic
"What does an accessible Canada mean to you?" Is the question that Canada's first-ever disability minister, Carla Qualtrough asked Canadians. For Canadian immigrants, the answer may vary. Language barriers, long wait times, and lack of transportation are just some of the issues many newcomers face when accessing healthcare in Canada. Cities in Canada are taking steps towards improvement by providing essential services such as English and French language classes, free drop-in clinics that do not require insurance and educating the public on how harmful stereotypes and discrimination are to newcomers in Canada. While these improvements are beneficial, further developments can help integrate immigrants with disabilities into sanctuary cities. This post will discuss improvements in the area of accessibility as well as potential policy changes that could improve the lives of newcomers with disabilities in Canada's largest city.
Historically, policy changes have been necessary to improve the lives of people with disabilities. In Canada, recent changes include updating language and terms used when discussing disabilities and local public policy changes such as improving accessibility to transportation, recreation, and employment. Provincial policy changes include requiring accessibility in the workplace and national policies have changed to foster overall attitude shifts towards creating change. When assessing public policy related to accessibility and migration, however, Canada's medical inadmissibility rules still plays a large role in constraining the immigration of people with disabilities. If an applicant has a health condition that is deemed to have excessive demand on resources, they will be denied. The current cost threshold set by the country has recently been raised to $24,057 a year in accordance with the Canadian average cost for health and social services, but it is still a staggeringly low number considering the cost per year for a Canadian with a severe disability. It is estimated that it can cost upwards of $40,000 a year for a family to take care of a child with a severe disability, meaning that anyone who requires a significant amount of care will be denied the possibility to immigrate to Canada. The medical admissibility policy needs to be changed, as Canada should directly address mobility rights and proper accommodations needed to allow for newcomers with disabilities to enter the country.
Improvements to accessibility systems that are already in place can also be made to better the lives of newcomers with disabilities seeking to come to Canada. Toronto is home to over 400,000 residents with disabilities, and accessibility is of utmost importance. While Ontario is aiming to be fully accessible by 2025, it is questionable if this goal can be reached considering the lack of accessible areas in large cities such as Toronto. "Realistically speaking, when I want to go somewhere, I'm consistently facing barriers," says Maayan Ziv, a Toronto resident with muscular dystrophy. Issues such as lack of curb cuts, sidewalks that are not wide enough, and missing sidewalks make mobility for people with disabilities – immigrant or not – difficult. These issues contribute to the hardships immigrants with disabilities face every day as it makes important activities such as getting to work, purchasing products, and accessing health care much more difficult.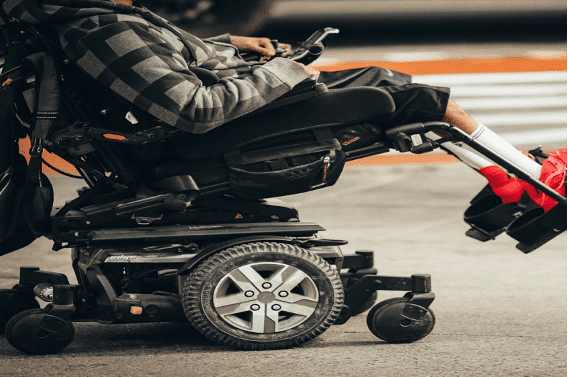 Tyson. 2021. Retrieved from https://unsplash.com/photos/O7ke8N4kTpQ
Policies such as Canada's medical inadmissibility policy, and the lack of accessibility options in major cities such as Toronto continue to place a burden on migrants with disabilities looking to come to this country as well as for those who are already residents. Ontario promises accessibility by 2025, but it is clear significant work still needs to be done to reach this goal.