by Maria Genet Drejer-Jensen
There is a long-established pattern of intraregional migration in Africa. With approximately 21 million documented African migrants having relocated within the continent, internal migration in Africa is higher than African migration outside the continent (approximately 19 million). The number of intraregional migrants is likely to be even higher, as many African countries do not track migration, and the factor of undocumented migrants is also to be taken into account. Dr. Derese Kassa from the Sociology Department at Iona University, studies the refugee spaces and sanctuary city practices available to African migrants within the continent.
Growing up in Addis Ababa, Ethiopia, Dr. Kassa describes himself as a through-and-through urbanite, with the globality of the city as a shaping factor of his identity and research interests. After finishing his undergraduate degree in Addis Ababa, Dr. Kassa went on to complete a Master's degree in England followed by a Ph.D. in the United States. He has chosen to focus his academic career on East African relations as a way to give back, and to minimize the research gap between African conditions and those of the West, which is apparent in his work on sanctuary cities.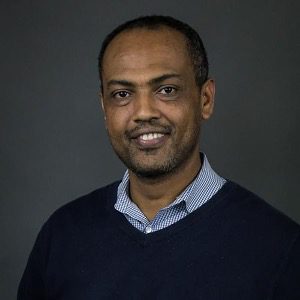 Dr. Derese Kassa
When describing his research, Dr. Kassa points out differences between the Western sanctuary practices and those of Africa. As opposed to the Western view of sanctuary city practices, where citizens have the power to hold their liberal, democratic governments accountable, such a power dynamic is not seen in most African countries. While the government is still an entity, the citizens' power – and even less that of refugees – cannot hold the government accountable for providing necessary services to refugees and non-status migrants, making them more precarious.
According to Dr. Kassa, the lines between who is a refugee and who is a non-status migrant are blurred. Many people are migrating between African countries as refugees (e.g. to a city like Nairobi) but they do not see these destinations as their final place of residence. They find themselves in a host city, where everything they do is like a non-status immigrant, they send their kids to school, get married, and open small businesses. The only thing separating them from being citizens is the fact that they cannot vote. He views this as a 'suspended state of being', where the individual is in the process of transition but is also settled. A triangle representing the citizen, the refugee, and the non-status migrant, which Dr. Kassa describes as 'stranded strangers'. This dynamic differs from that in the West, for example in Europe, where the newcomers' city of arrival is seen as their final destination, and their goal is to become citizens.
Dr. Kassa aspires to look into what he calls 'imperial solidarity', an oxymoron describing the effort of the European nations to incentivize African cities to become sanctuary cities, while these nations are the most hostile when it comes to precarious migrants entering Europe. The question is, can there be traces of imperial thought behind the support of sanctuary practices? Or are the intentions genuine and not rooted in a desire to keep refugees away from the Mediterranean and out of Europe?
As a member of the Soli*City partnership, Dr. Kassa has expressed great excitement for future prospects of research and collaboration, and enthusiasm for the opportunity to form relationships between not only scholars, but allies of a truly global community. He describes this community as "people who care, not just about what happens in their neighborhood or in their country or city but all over the world and what happens to perhaps the most marginalized, invisible, precarious communities and groups of people who are refugees and undocumented immigrants."
The partnership's diversity is one of its core strengths, proving the benefits of collaboration through different perspectives, experiences, and competences in working towards a common goal – to improve the lives of society's most precarious individuals.
Learn more about the work of Dr. Derese Kassa here.
---